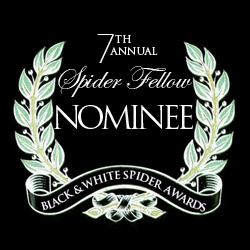 EXHIBITS & NEWS

BLACK AND WHITE SPIDER AWARDS HONORS PHOTOGRAPHER JACK DZAMBA
by JACK DZAMBA
LONDON (June 18, 2012) - Professional photographer Jack Dzamba of Icron Image International, Inc. of Boston, MA, USA was presented with the 7th Annual Black and White Spider Awards Nomination in the category of Fashion
at a prestigious Nomination & Winners PhotoShow.

The awards international Jury included the National Geographic, and the Tate in London, who honored Spider Fellows with 180 coveted title awards and 875 nominees in 14 categories from 8,223 entries.

You can view the 7th Annual Winners Gallery at
www.thespiderawards.com/gallery/7th



BLACK AND WHITE SPIDER AWARDS is the leading international award honoring
excellence in black and white photography. This celebrated event shines a
spotlight on the best professional and amateur photographers worldwide and
honors the finest images with the highest achievements in black and white
photography.





Attleboro Arts Museum
May 2012
PARIS IN NEW YORK
by JACK DZAMBA
Dec 1 to 3, 2011
The Palm Court, Plaza Hotel
Opening Reception
Thursday, December 1, 6-8pm
S&I Chelsea
526 West 26th Street, 9G
New York, NY
WOMEN IN TUXEDOS
by JACK DZAMBA
PaulaBarr chelsea
west chelsea arts building
508/526 west 26th street • 9G
New York NY 10001
December 2 - 5, 2010
Opening Reception: Thursday, December 2nd, 6-8 pm


New York, December 2010 - PaulaBarr chelsea, is pleased to present Jack Dzamba's solo photography exhibition. The artist will be present at the Opening on Thursday, November 4th, 6-8p.
"Women in Tuxedos" is an Exhibit of black & white photographs of women wearing the photographer's own tuxedo, and shot in the elegant and sophisticated style of Coco Chanel and Yves St. Laurent. "Women in Tuxedos" is a work in progress which will premier in New York at PaulaBarr Chelsea and will result in a book of the same name.
JACK DZAMBA EXHIBITION in FRANCE
by the"Artists of the Two Rivers"
May 3 to 15, 2010
(Boston, April, 29, 2010) In the fall, artists from France and Boston exhibited at The French Library on the banks of the Charles River. in Boston. Now, the Artists of Two Rivers will exhibit in Le Pecq, France, just outside Paris, from May 3 to 15. The exhibit will coincide with the celebration of the 65th Anniversary of the end of WWII in Europe.
Works from "Paris in Boston" by photographer, Jack Dzamba, will be part of the exhibit. Dzamba, a disciple of Henri Cartier - Bresson, works with the concept of the"decisive moment" and his images transmit a connection between the subject and viewer as if the camera was never there. His work, often in black and white, has won numerous awards in the U.S. and international competitions, including a mention in the prestigious Prix de la Photographie in Paris in 2007. In 2008, Jack Dzamba released "Paris in Boston," a book of fine art photographs that blend the majestic beauty of Boston, with the style and romance of Paris. He is represented by Paula Barr Chelesea in New York City and Canvas Fine Arts in Boston.
THE FRENCH LIBRARY OF BOSTON TO SHOW "PARIS IS IN BOSTON"
by JACK DZAMBA
The French Library of Boston will Host "Paris in Boston," by Jack Dzamba, and Exhibit of Black and White Photographs from October 5 to November 2, 2009 with a "Black Tie Creative-Optional" Opening and Book Signing on Wednesday, October 7, 2009 from 6 – 8 pm.
If you are lucky enough to have lived in Paris …, then wherever you go for the rest of your life, it stays with you, for Paris is a moveable feast.
- Ernest Hemingway
I love you in a place where there's no space and time.
- Leon Russell
PARIS IS IN BOSTON
"Although Hemingway wrote the famous sentence in 1950, I think it has always been true," said Jack Dzamba, author of the book, Paris in Boston, "and the lyric from Leon Russell speaks of the fragile beauty of a time and place, unless it can always remain with you," he said.
The book was inspired by the Boston Public Library. "Every time I looked at The Boston Public Library, I thought, 'this could be in Paris,'" Dzamba said. "Then, as I looked at a number of other scenes around Boston, the same thought kept coming back to me. I began looking at Boston in a wholly new light and decided to do this book," he said. Gallery owner Paula Barr of PaulaBarr Chelsea in New York City, which represents Jack, said, "Once you see this book, you will never look at Boston in the same way again."
James Concannon of The Boston Globe wrote,
"Everywhere [photographer Jack Dzamba] looked, he saw intimations of Paris: the Cabot Building is reminiscent of Place des Vosges, Genzyme headquarters at night recalls Notre Dame, and myriad hotels, restaurants, and shops, exude an unmistakable French flair. This book, with its moody black-and-white photographs of buildings and scenes, makes Dzamba's case for the link between the two great cities."
The Boston Globe, April 4, 2009.
Art Exhibit and Book Signing PARIS IN BOSTON by Jack Dzamba
October 5 – November 2, 2009
French Library Alliance Française of Boston
Opening Reception Wednesday October 7, 2009, 6-8 pm
Black Tie Creative – Optional

Jack's Image "To School" Awarded Honorable Mention in Worldwide Competition

(January 2008) Jack Dzamba's image "To School" was awarded an Honorable
Mention in the The "Prix de la Photographie, Paris" (Px3) worldwide Human
Condition Competition.
Jack Dzamba to Exhibit at Paula Barr Chelsea
(November 2007) Jack's photographic series "Boston Winter" will be shown in the Fall Group Exhibit at Paula Barr Chelsea, from November 29 – December 15, 2007. The Exhibit is curated by Myriam Rotzetter. Opening Reception, Thursday November 29 from 6 – 8 PM. (See the detail)
Paula Barr Chelsea
526 W. 26th St, NY, NY.
212.691.9482
www.paulabarr.com

Jack Dzamba Chosen to Exhibit on PicassoMio
(November 2007) A large collection of Jack Dzamba's work has been chosen for exhibit on PicassoMio, a leading online gallery for contemporary art recommended by the Getty, The New York Times, The Wall Street Journal, Financial Times, ARTINFO and Architectural Digest.
http://www.picassomio.com/jack-dzamba

JACK DZAMBA RECIEVES 2007 HONORABLE MENTION AWARD
IN PARIS COMPETITION
(July 2007) The judges in the prestigious international photography competition have awarded an Honorable Mention -Professional Category - to Jack Dzamba in the 2007 Px3 Prix de la Photographie Paris competition which received some 5000 images from photographers around the world. Px3, www.px3.fr, strives to promote the appreciation of photography, to discover emerging talent, and introduce photographers from around the world to the artistic community of Paris. Jack's image, Le Cygne /Leda and the Swan in One Image, is shown on the right. This image, in the 10 1/2 x 9 inch size, is being issued in a Limited Edition of 10. It is available for purchase on the Limited Editions Page..
Studios 39
257 W. 39th St.
New York, NY.
212.729.4342
July 21-23, 2006.
Opening Reception Friday, July 22, 2006, 6- 11 p.m.
Group Exhibit.Jack showed the images now on the Limited Editions Page.

GALLERY BLACK AND WHITE

Avenue of the Arts
295 Huntington Avenue
Suite 205
Boston, MA 02115
617.266.2641
Green Line - Symphony
MAY 8 – JUNE 16, 2006
Opening Reception on Friday May 12, 2006, 6:00 - 8:00 PM
Gallery Hours: Monday – Friday 10:00 AM – 5:00 PM
www.blackandwhiteinc.com

Jack's image Linen 1- Dream was published in the book, Like Sand From Orchid's Lips, TCB- Cafe Publishing, San Francisco, CA. (2006) as a result of being chosen a Finalist in the "International Competition of 2005."
Jack Dzamba announces a new series on Boston, Massachusettes. The first images, which have now been added to the website, are views of Boston in winter which include views of the Massachusetts Avenue Bridge, Back Bay, and Cambridge from Boston taken in the winter of 2005. The pictures are available in Black & White, Color, and Sepia.
Jack's image "Boston Winter #3" was sold in the 2005 WGBH Auction.
Jack's image "Boats - Newport, RI", a limited edition, was sold at the WGBH Benefit Auction in Boston in June 2004. WGBH is one of the country's premiere public television stations, producing many programs of its own and in conjunction with the BBC in England. Jack has an Exhibit of "Scenes of Paris" at the Linden Gallery located north of Boston, through October, 2004.
Photography Competition 2004: "Incredible Eyes"
Jack Dzamba chosen as Finalist in International Photography Competition. Book to be Published in Fall/Winter of 2004.
http://www.cafeandre.com
San Francisco - June 16, 2004 - TCB-Cafe Publishing is pleased to announce that the Finalists have been selected for its Photography Competition 2004. The Photography Competition 2004 is an international photography contest organized by TCB-Cafe Publishing of San Francisco, and was created to develop and raise the visibility of photographic and creative talent.
The theme "Incredible Eyes" was interpreted by a pool of international photographers, and the Finalists will be featured in a resulting fine-art book publication and exhibition. The book's objective is to serve as a source of inspiration and appreciation of one of our most valuable physical gifts - the eye. This publication will reach not only photography lovers and 'eye' aficionados, but will also help several charities for the blind.
ABOUT TCB-CAFE PUBLISHING & MEDIA
TCB-Cafe Publishing is a media company focused on food, art, lifestyles,
education, and society. Recent bestsellers are "The Cafes of San
Francisco, 2nd Edition," and new releases "Chocolate French" and
"Seduction by Shakespeare." The firm also is sponsoring "the INDIE FOOD
Channel." New acquisitions include "Food for the Soul," by author Monique
Y. Wells. The company slogan is "New Ideas for a New World."
Jack's image "PARIS REFLECTIONS 2004" was chosen in a Juried Competition judged by photographers from the San Francisco Chronicle and will be shown in the Exhibit entitled THROUGH THE LENS, from APRIL 6-29, 2004 at the ARTISANS GALLERY, Mill Valley CA
RECEPTION: Tuesday, April 6, 6:00-8:00pm
Exhibits : SCENES OF PARIS at Alliance Francaise in SF

Alliance Francaise, San Francisco, CA., February 2004.
Opening on February 5th from 6 to 8 PM.
Alliance Francaise
1345 Bush Street (btw. Polk and Larkin) MAP
The Artisans Exhibit in November 2003

Jack had two images chosen to be exhibited in the "Bon Appetit" Exhibit competition at the Artisans Gallery in Mill Valley, CA, during the month of November. The images were "Le Hotel Meridian", Boston ,and "Cafe White", Rome. The image "Cafe White" may be viewed on this site.

JACK DZAMBA'S "REMEMBRANCE" CHOSEN IN NATIONAL JURIED COMPETITION.

(Sept. 12, 2003) Jack Dzamba's image, "Remembrance" taken at the Louvre in Paris, has been chosen in a National Juried Competition, judged by Marian Parmenter, executive Director and Founder of the SFMOMA Artists Gallery. "Remembrance" will be shown at the National Exhibition in October 2003 at the Artisans Gallery, 78 East Blithdale, Mill Valley, CA.
The Exhibit will take place from October 7 - 30, 2003.
An Opening Reception will be held on Tuesday October 7th from 5 - 8 P.M.

For Further Information contact:
Artisans Gallery
78 East Blithdale
Mill Valley, CA 94941
415.388.2044
www.artisans-marin.org

Dear Friends,
You can see some of my work on the site of French-American TV at www.french-american.tv. The Exhibit at the san francisco black and white gallery was broadcast on June 12, 2003. The French-American tv show is on every Saturday at 7PM. on Ch. 29 SF.
I am also on a site based in Paris, www.wwpas.org under "Jack Dzamba." Please take a look at the images "Lobby 1" and "Lobby 2" on the wwpas site. They were taken with a throwaway camera of lobbies of buildings in San Francisco, and may be the start of a new series and perhaps a book.
Regards,
Jack
EXHIBIT -black & white photography:
ICRON will exhibit at the San Francisco Black & White Gallery, located at 619 Post Street, San Francisco, CA, USA., beginning 1 June 2003. The Gallery shows black & white photography exclusively. Please stop by if you are in the area.

The 'Scenes of Paris' Exhibit runs through Sept. 15, 2003.